Bagi pecinta golf, driver XXIO memiliki reputasi yang sangat baik: driver dengan ayunan yang mudah, jarak yang lebih jauh, serta suara pukulan yang memuaskan. Driver XXIO generasi 11 yang baru hadir dengan dua model; model pertama yaitu XXIO Eleven dengan keunggulan utama membantu pegolf untuk meningkatkan "carry" dengan mudah. Model kedua adalah XXIO X (baca: eks) dirancang untuk pemain golf yang mempunyai swing yang sudah solid. Lebih lanjut, generasi ke-11 berfokus pada Top of the Swing dengan teknologi Weight Plus baru, yang dikembangkan untuk membantu pergelangan tangan sambil mengatur posisi daya ideal dan sangat stabil untuk jarak yang lebih jauh di bagian atas, memberikan dampak yang lebih cepat dan lebih akurat.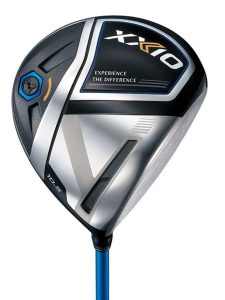 Teknologi Weight Plus juga bisa dirasakan pada XXIO X. Teknologi ini memungkinkan terciptanya jarak yang lebih jauh yang belum pernah terjadi sebelumnya. Dua lineup berikutnya adalah The New XXIO Fairway Wood dan Hybrid. Dua anggota keluarga baru ini dilengkapi dengan Cannon Sole yang baru dikembangkan. Teknologi yang diterapkan pada club XXIO Fairway Wood dan Hybrid memungkinkan jarak pukulan yang lebih jauh dan memperbaiki kemampuan tolakan dari kepala tersebut. Club golf XXIO telah berevolusi melalui penelitian dan pengembangan, terutama dengan menguji ayunan selama beberapa tahun terakhir, untuk menawarkan cara unik mendapatkan jarak pukulan baik dengan memaksimalkan kekuatan masing- masing pemain golf.
Masih pula dibekali dengan teknologi weigt plus seperti pada driver generasi ke 11, XXIO Fairway Wood dan Hybrid juga memiliki defleksi dan desain gravitasi rendah dari Cannon Sole yang memilki kemampuan untuk raihan jarak yang lebih jauh. Cannon Sole sendiri adalah sebuah desain ultra-tipis di bagian kepala club, yang membelokkan bagian Sole sehingga memberikan jarak yang lebih jauh dengan kurva yang ringan.