Sejak lama, golf merupakan olahraga yang menggabungkan teknologi dan kesenangan. Baru-baru ini sebuah perusahaan rintisan atau startup yang bermarkas di Amerika Serikat, mengumumkan temuan baru mereka untuk para golfer.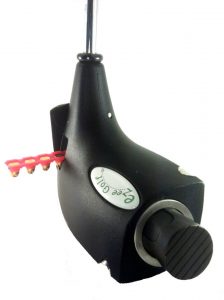 Dalam website mereka tertulis "where golf meets rocket science. From tee to green, one club – 50 to 200 yards, no swing required. Serta tertulis pula "now anyone and everyone can play and enjoy the game!. Ezeegolf Powerclub adalah peralatan golf pertama di dunia yang memudahkan pegolf untuk bermain golf tanpa mengayunkan stik. Dengan hanya berlajar secara singkat, Anda langsung bisa memukul bola secara maksimal. Peralatan ini juga mengklaim bahwa Anda tidak akan pernah mengalami cidera selama bermain golf.
Dalam video yang diunggahnya, mereka menyebutkan bahwa pegolf hanya perlu memasukan cartridge, mengatur jarak yang diinginkan, ambil posisi lalu tembakkan dan bola akan melesat menuju green.
Jika Anda tertarik untuk memiliki, Anda harus bersabar. Pasalnya, golf club ini sementara hanya tersedia di Mainland, Amerika Serikat dan bisa dimiliki dengan cara pre order terlebih dahulu. Untuk satu driver EzeeGolf dibandrol seharga $995 plus ongkos kirim.
Penasaran seperti apa cara mainnya, berikut tutorial dari mereka: https://www.youtube.com/watch?v=Sc-GDuIKF_E
Photo Courtesy: EzeeGolf