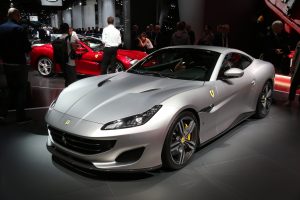 Ferrari Portofino merupakan mobil GT dengan mesin V8 terbaru yang siap mendominasi segmen GT berkat kombinasi yang sempurna dari sisi sporty, elegan dan kenyamanan berkendara.
Dibekali dengan mesin V8 Turbo Ferrari, salah satu bagian dari keluarga mesin yang memenangkan keseluruhan International Engine of the Year Award di tahun 2016 dan 2017, mobil baru ini mampu mengeluarkan daya 600cv dan dapat berlari dari 0-200km/h hanya dalam waktu 10.8 detik. Ferrari Portofino merupakan model convertible terkuat yang secara bersamaan menawarkan bagian atap yang dapat terbuka, bagian belakang yang luas, serta ruang huni yang leluasa yang dapat memuat dua kursi belakang untuk perjalanan pendek.
Mobil baru ini mengambil nama dari salah satu kota yang paling menawan di Ligurian Riviera, Portofino, dan selama bertahun-tahun, telah menjadi identik secara internasional dengan keanggunan, sportiness dan kemewahan yang bersahaja. Model baru ini juga merupakan model yang paling multifungsi dikelasnya, sebuah Ferrari yang sengaja didesain untuk dikendarai setiap hari yang juga dengan mudah mampu berubah dari coupe 'Berlinetta' yang autentik menjadi model drop-top hanya dalam waktu 14 detik, meskipun sedang dalam perjalanan dalam kecepatan rendah. Perkawinan yang brilian antara desain, konten teknologi dan performa, Portofino ini merupakan mobil yang sempurna untuk berbagai macam acara. Tertarik?