Miguel Angel Jimenez menjadi pegolf Spanyol pertama yang memenangkan The Senior Open yang dipersembahkan oleh Rolex pada. Pegolf gaek ini mengalahkan juara bertahan Bernhard Langer dengan selisih satu tembakan.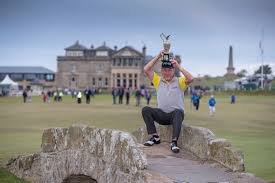 Jimenez hanya menjatuhkan satu stroke dalam perjalanan ke babak final -3 di bawah 69 dan berakhir pada 12-under 276 di Old Course, St. Andres lapangan yang bersejarah itu.
Jimenez mengikuti jejak yang terkenal sebagai orang Spanyol kedua yang menang di St. Andrews setelah Seve Ballesteros memenangkan The Open pada 1984.
"Ini adalah tempat di mana semua orang ingin menang dan tempat di mana Seve memenangkan British Open kedua," kata Jimenez. "Saya selalu berambisi untuk menang di sini. Rasanya seperti saya menjadi bagian dari sejarah."
Jimenez, pegolf 54 tahun tersebut bermain layaknya sang legenda. Ia bermain dengan sangat apik di putaran final. tak jarang juga ia berhadapan dengan kondisi cuaca yang tak menentu.
"Saya tidak bermain terlalu bagus di beberapa hole terakhir," kata Jimenez. "Saya tidak memukul banyak dengan tembakan yang keras. Dan saya melewatkan putt pendek di dua hari terakhir. Pada tahap itu saya merasakan tekanan. Hati saya benar-benar memompa sangat cepat."
"Miguel memainkan golf yang luar biasa selama empat hari, dan dia adalah pegolf yang sangat bagus," kata Langer, yang menutup putaran final dengan 4-under 68. "Saya cukup bahagia secara keseluruhan. Dalam kondisi seperti ini raihan ini tidaklah mudah" Ungkap Langer yang berada di posisi kedua.
Foto oleh PGA Tour, ASSOCIATED PRESS dan Getty Image